With yellow wheat fields, its young volcanoes and its infinite steppe, the plateaus of Anatolia offers a stern landscape. But a look at this history reveals millennia rich with emotive episodes.
Because of its location in the center of the country, the region has been a historical junction of major trade routes and a crossroads of the migrations of people and nations.
The two superpowers in antiquity were Egypt and the Hittite Empire that emerged in Central Anatolia. The Hittites distinguished themselves not only through the civilizations they created, but also through the state structure they evolved and their tolerant respect for human rights.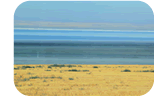 Throughout history, the steppes of Anatolia have witnessed battles between powerful armies in quest of domination. It has been invaded by Alexander the Great as well as Timurlane. The Seljuk Turks left their mark in Central Anatolia through their remarkable architecture and decorative arts. In recent history, the struggle for independence was launched here and the first National Assembly met in Ankara, a landmark in the history of Turkey and of the region. Finally, after the turbulence of thousands of years, Central Anatolia achieved peace and stability. Now, this region, with Ankara as its capital and other booming cities, is rapidly catching up with the developed world.