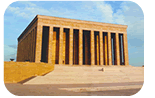 Proud Istanbul, the capital of the Ottoman Empire, yielded its privilege to Ankara on October 13, 1923. Sixteen days later the Republic of Turkey was proclaimed. Ankara, known until that time for its rabbits, cats and goats, became the geographic, political and administrative center of Turkey with all the government offices and foreign embassies transferred here from Istanbul. This dramatic change has profoundly affected the appearance of the city. What was in effect an ancient Anatolian town had to quickly acquire a new personality, which it has done very successfully. Soon it was no longer the modest Ankara of artisans and small tradesmen, but a city hosting politicians, government officials and foreign diplomats. The first buildings to alter the skyline of Ankara were the Museum of Ethnography and of Painting and Sculpture. They no longer stand alone; Ankara counts a number of skyscrapers, large shopping centers, five star hotels and bank headquarters. The new imposing Kocatepe Mosque, a combination of Ottoman and classical architecture, has added a new touch to the skyline of Ankara. The most important monument of Ankara is undoubtedly the tomb of Kemal Atatürk, a magnificent classic building appropriately designed with somber lines and set on a vast esplanade.
Access to this, known in Turkish as Anitkabir, is through a triumphant alley lined with granite lions. It is a fitting monument to the greatness of the founder of modern Turkey.
The Museum Of Anatolian Civilizations
A visit to the museum of Anatolian Civilizations is the best way to come to terms with the splendors and riches of Anatolia's long history which goes back to the 7th millennium BC. This is surely one of the world's most interesting museums for the originality of its collections. It contains more than 200,000 pieces, of which only a limited number can be displayed due to lack of space. The bronze objects alone number around 17,000 and there over 70,000 coins. The Karun treasures, recently repatriated from the United States, are shown in a special section. The museum is housed in two buildings dating from the Ottoman era: a caravanserai, "Kursunlu Han", built during the reign of Sultan Murat II between 1440-50, and the "Mahmut Pasa Bedesteni" (market) built by two viziers of Sultan Mehmet the Conqueror between 1467-71.