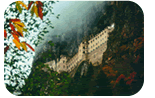 Trabzon played an important role in history due to its harbor and its vital positioning on the legendary Silk Road. Such was its fame, that Marco Polo visited the city in the 14th century. Trabzon continues to be a busy city for transit trade and the newly enlarged port has increased its shipping capacity.

About 54 km to the south of Trabzon is the Monastery of Sumela, built on the side of a vertiginous cliff overlooking the valley of Altindere. It is an exceptional site, not only for the singularity of its construction, but also for its magnificence. From the valley, the monastery gives the impression of levitating between the earth and the sky. According to legend, Sumela was founded by two Athenian monks who had a vision of the Virgin Mary in which she asked them to build a monastery in an isolated valley in the mountains.
About three kilometers from Trabzon harbor is the Church of Ayasofya, high on a hill overlooking the sea. It was built in 1204, after the arrival of Commeni to Trabzon, and later restored and transformed into a museum. Its wall are decorated with exquisite frescoes, painted in all the vivid colors of the rainbow.
Click for photos from Black Sea Region