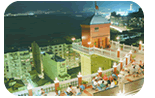 Izmir is the main city in the Aegean region and the third largest in Turkey. Its ideal location, on a natural bay, enabled the development of a large port which has contributed to the successful development of Izmir. This is one of Turkey's most pleasant cities: its streets are shaded by palm trees, the walkways are beautiful, the houses elegant.

The most summer sun is cooled by winds blowing in from the sea. Izmir is the ancient city of Smyrna, "the country of the sacred mother". It existed even before the arrival of the Hittites and has been ruled by lonians, Persians, Romans and Ottomans. But unfortunately few traces of Izmir's magnificent past remain. A fire at the end of the Turkish-Greek war in 1922 destroyed a great part of the city, and the newly built Izmir today is modern and gleaming. Its economic development is linked to the port and the various industrial enterprises. The final destination of the "King's Road", which links with Iran, Izmir continues to be a focal point of tourism and entertainment, renowned for its fish restaurants along the shore, its bars, discotheques and night clubs. Its hinterlands are rich in monuments and ruins which tell the tale of countless ancient civilizations.
Çesme
The summer resort of Çesme is very popular with the residents of nearby Izmir. The white sandy beaches stretch lazily along a road lined with exquisitely built houses, several large hotels and a number of restaurants which serve excellent seafood and Turkish specialities.
Every year an international music festival is held here, attracting some of the world's leading performers. Modern Çesme is adjacent to a historic city which is blessed with a 14th century castle and the ruins of an ancient caravanserai.
Foça
Foça is situated on the site of the ancient city of "Phocea", and is said to have been founded by the very same people who founded the French city of Marseilles, Attalia in Corsica and Ampurias in Catalonia, Spain.
In 600 BC, the inhabitants decorated their buildings, temples and ships with wooden statues of cockerels. According to legend, one such statue has been hidden somewhere in the town itself, a tale still widely believed and the reason for much local hunting.